Project managers often need to streamline the planning and execution of team projects in order to optimise their workflow. This is mostly done with specially designed project management software.
This is what software are designed to do right? To make our lives simple. You should know that you don't have to work through a labyrinth of tasks and other paperwork if you are working with the right tool.
This is why choosing the right project management software can be the best thing you can do for your team.
The best project management software can help you optimize the process of project management and survive the total chaos that might occur at your workplace. Everything depends on the right tool.
As attractive it may sound, finding the right project management software from a sea of options is not an easy task.
Understanding how PM software really work can be the most difficult part for a beginner. This confusion often leads to poor decisions and then the cycle of chaos begins.
This article is going to give you the latest and the most authentic information about the best project management software currently available out there.
You might have even heard about some of these before. Here you will find researched and filtered information so that you don't have to do the deep research. This is the best place to find out what might work for you.
How to Find the Best Project Management Software in 2022?
You can clearly see that there are a lot of options today and to an inexperienced eye, most of these options might appear to be the same.
However, each software brings with it, some unique benefit which might work for a particular set of users.
Ideally, the best project management platform would be one which has the friendliest and clutter free user interface.
However, the actual work is done with the help of the features. The features of the ideal software would be unique, powerful, integrated and useful. Overall, the features of the tool should enhance the quality of the performance and results.
Users appreciate software which offer an easy sign up and a free trial without asking to provide credit card details. Don't you remember closing an online window as soon as you are asked for your credit card information just for a week's free trial?
The software should be affordable and also easy to work with so that minimum briefing is required before assimilating it in your project management practices.
Finding such a project management software might seem difficult and that is why we bring to you the best options to choose from.
Here Are the Top Ten Project Management Software for You That You Can Start with Right Now
Smartsheet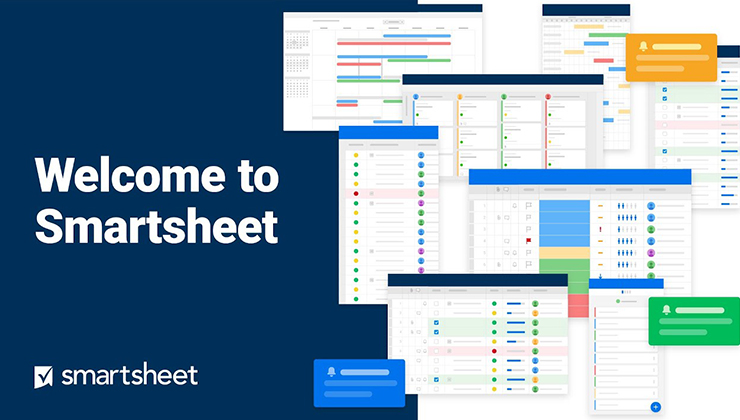 Smartsheet is one of the most popular project management tools available today. It is known for its remarkable automation benefits.
If you are one of those users who love to customize your own dashboards, you will love this. This software promotes workflow automation and offers the best customization features. You get a break from having to use formulas like in excel.
You can easily integrate Microsoft and Google apps and other popular business apps like ServiceNow, Salesforce and Tableau etc.
You can easily stay up to date with all tasks, reminders, updates and also get status reports to finish the projects on time.
Why Choose This?
Smartsheet is ideal for users who want to reduce their work load by understanding this tool and then making it work for them.
This software offers multiple templates and resources. It is brilliant for projects which need collaboration since it is designed to simplify sharing.
You can personalize your own dashboards like you want. Integrated apps strengthen its case and make it useful for a wider range of users.
This tool truly uses the power of automation to enhance productivity in project management and in other combined business tasks.
ClickUp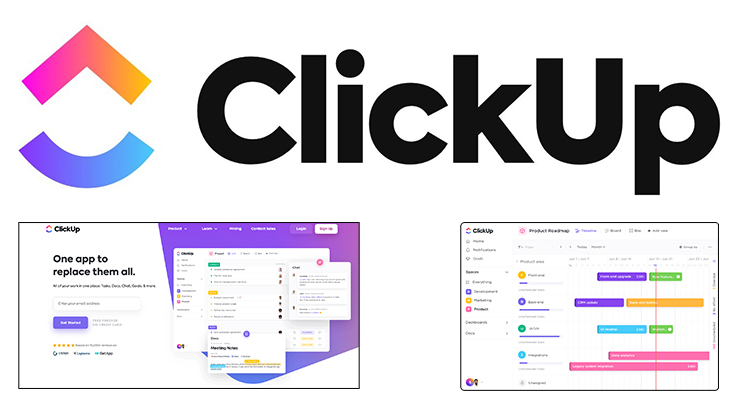 ClickUp is one of the top project management solution providers today. Its popularity has grown flourishingly since its launch.
This software truly personifies power since it serves to be the most comprehensive solution for all types of users.
It packs a set of extremely powerful and effective features under one interface and gives your team a chance to optimise their performance with a single platform.
You can effortlessly plan your projects, manage tasks and multiple resources in a centralized interface while also collaborating and connecting with fellow team members.
ClickUp allows you to sort, find, reorder, choose and view tasks any way you want without any fixed structures.
Additionally, you can make Gantt charts, timelines and calendars to view tasks according to your convenience.
Team members can collaborate by commenting on tasks and docs. An added chat option is also offered to enhance communication between the team members.
You get to integrate apps like G Suite, Slack and other options like business suites and storage. Additionally, you can get countless other integrations with Zapier.
Why Choose This?
While ClickUp is one of the most comprehensive project management software, it also offers the widest range of plans which are right for the needs of different teams of varied sizes.
You can optimize your project workflow with endless options of customization. There is a free forever plan which gives permission to add unlimited members. Overall, this can be called a complete solution for all.
Monday.com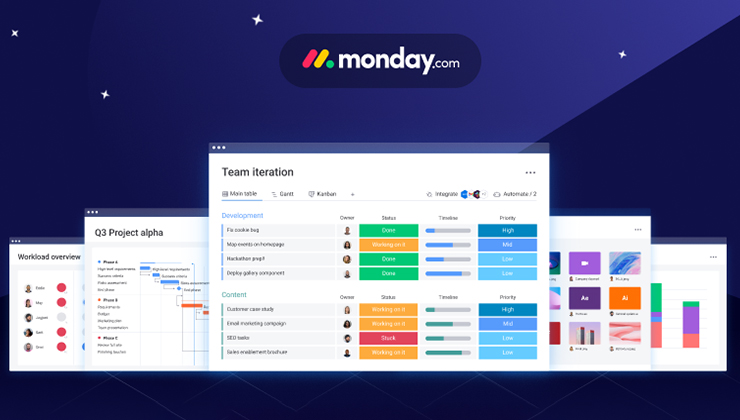 monday.com is one of the top award-winning project management software solutions which is known to be highly user friendly and customizable.
It is used routinely by top companies like Coca-Cola, Adobe, Hulu, BBC studios and more. monday.com focuses mainly on seamless collaboration and integration of multiple services to optimize and boost productivity.
It is known to perform remarkably well for effective tracking of time, resource management, team association and overall project management.
The tool is also able to collect several types of data from several boards, fortifying the tracking progress. It is known for seamless collaboration as you can make comments and even mention other members.
The customization and automation abilities of this project management software are truly noteworthy and are responsible for making this one of the most widely in demand project management solutions.
This technology enables the integration of other apps like Jira, Trello, Typeform, Slack, Drive, Gmail, Calendars and many other integrations accessible through Zapier.
Why Choose This?
The best part about working with monday.com is its seamless user interface which does not seem overwhelming even when the service has an abundance of features.
This tool offers a variety of use cases. You even get to personalize your interface with different colours. You can modify the tool according to the user demands according to the requirement of the project and the team members
Wrike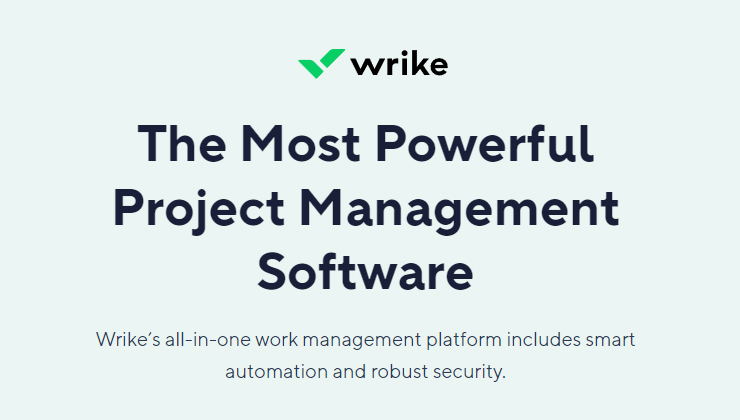 Wrike is a powerful offering among project management solutions. With it, you get an extremely fluid, simple and interactive user interface.
You get seamless navigation with separate folders and tasks. If you are a beginner, Wrike offers an active help center where you get a detailed user guide along with active support.
The best thing that we like about Wrike is the variety of its offerings for specific solutions. Wrike succeeds at offering very specific services according to the organization and the active team. Its services vary according to the type of team.
For example, marketing teams and creative teams have different needs. All you need to do is find the right plan according to your team and the type of work that it does.
You are not likely to feel disappointed with what you will get. The customer support is solid and you will not feel that you are on your own at any point in time. Wrike is perfect for large teams and will prove to be a game changer if you can set it up well.
Why Choose It?
Wrike is more than just a project management tool. It also serves well as a means of improving team collaboration and optimizing the work flow. It is a uniquely set up collaboration tool which is going to enhance your productivity. It is an ever improving and growing technology which keeps on integrating smart features to make it the absolute best.
ProofHub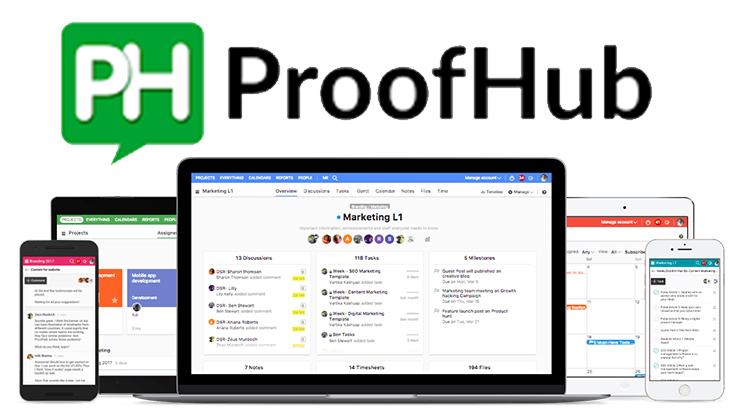 ProofHub is known as an all-in-one project managing software which claims to offer all the tools that a team needs to work together and collaborate to finish all projects in a timely manner.
It is one of the more specific project management solutions which is ideal for teams which go through several stages of proofing as a part of work.
This applies to any teams which work with visual data like app design data or advertisement drafts. You can get an edge with ProofHub. It even offers you specialized PDF marking tools that you can use to correct things or give feedback while working with your team.
Why Choose It?
This software really aims to bring the team together to eliminate any chances of miscommunication. It allows teams to coordinate and assign tasks so that all deadlines are met.
Hey! Experts at Nike and Netflix use it too! One of the top reasons to go for this tool is the little to no learning curve. It is extremely user friendly and simple to work with.
Even small teams with no assigned project manager can work with this tool and no one is ever going to complain. With one tool, you get to plan, organize, collaborate and deliver.
TeamGantt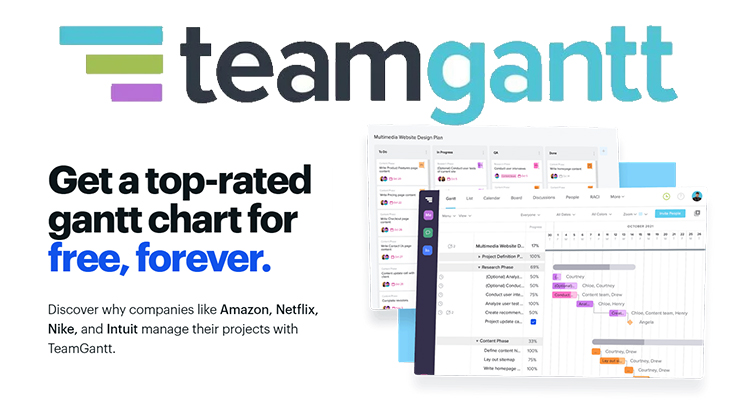 TeamGantt is a popular project management solution which is often called the best tool for beginners because of its ease of use.
It is also used by professionals at Amazon and Netflix. This software basically offers everything that a team needs for successful project management.
This tool is often appreciated for being simple to use and easy to personalize. You can collaborate with team members even with the tag and chat features.
It is also evident from its name that this service leads in Gantt charts. If you are a total beginner and don't know anything about Gantt charts, this service will give you great comfort.
Team Gantt can be called the best tool for handling simple projects but some users have pointed that it is not suitable to handle complex tasks spread across various teams.
This is one of the reasons why this software is more suitable for small teams rather than large ones with extensive demands.
Why Choose This?
We believe that Team Gantt might be perfect for you if you are with a small team since it offers a free version for small groups.
It offers a clean and easy interface which allows all users to learn about Gantt charts without any pain. There are dedicated tutorials for new users who want to learn how to work with this tool.
We also loved a special feature which auto-corrects some errors. Overall, this is a great offering and you should try it if it seems attractive to you.
LiquidPlanner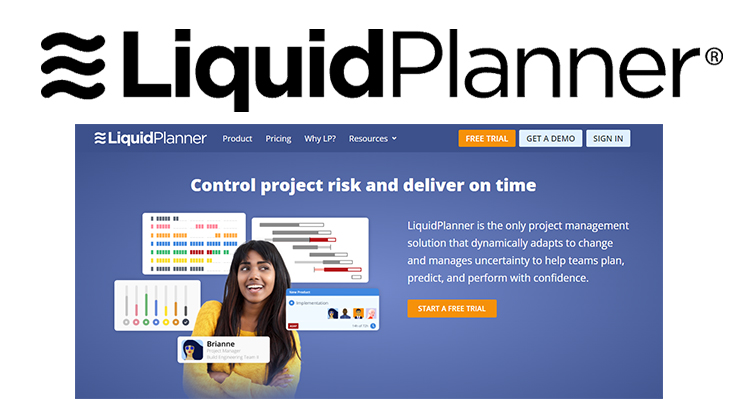 LiquidPlanner is one of the most interesting apps that we found for complex project management. This service is particularly known to work well for teams of all sizes and is especially recommended for large teams which handle complex tasks.
One of the most significant factors which make this tool so great is its ability to automatically fix schedules for projects even when there are few slip ups and when workers are not found to be available.
It is designed to schedule work for your entire team while working with real time changing factors. Isn't that truly impressive? This tool seems to have a mind of its own! Several algorithms and tools work together to fix any snags automatically.
Why Choose It?
You should choose it if you want automation and total control. This tool is known for its power and reliability. You get to manage projects and multiple tasks while the tool schedules work automatically while taking everything into account.
This is not something which every other tool can do. If you choose the professional or ultimate plan, it will even show you the best- and worst-case scenarios and projections for particular projects. This project management software has an X factor and we love it.
Workzone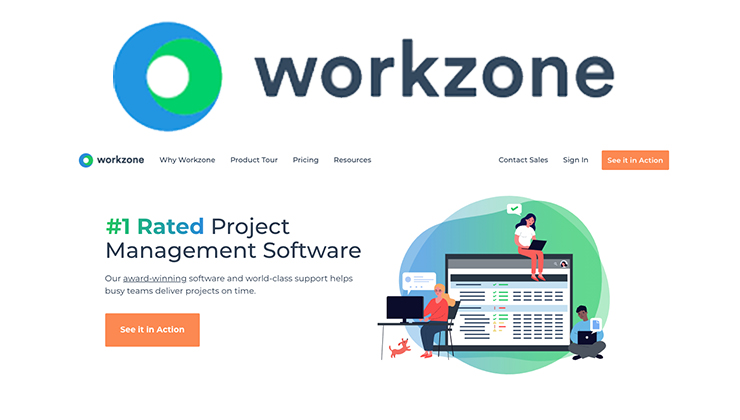 Workzone is one of the oldest and widely used project management software. Running for more than 20 years, this tool offers to teach you and your team everything you need to know about changing the way you work with this tool.
You get an inclusive dashboard which includes shows you all projects along with Gantt charts. You get smooth workflow management along with expenditure tracking. One of the greatest features of this tool allows you to give and restrict access to different users according to their profile.
This ensures that there is absolute order and control in project management. There is no lack of integration since the tool easily integrates with the best sharing, tracking, accounting and management software and services.
Why Choose This?
What we like best about Workzone is the fact that their team assists you in setting up the software. They help you understand your needs and then help you to set up and customize the software according to the results that you want.
It is uncommon to find such a dedicated support team which truly believe in what they do and are pretty good at it too. This is how using Workzone ensures that you truly get the results you want and deserve. You can even set up email reminders to make sure that there is no delay in completing the assigned tasks.
Celoxis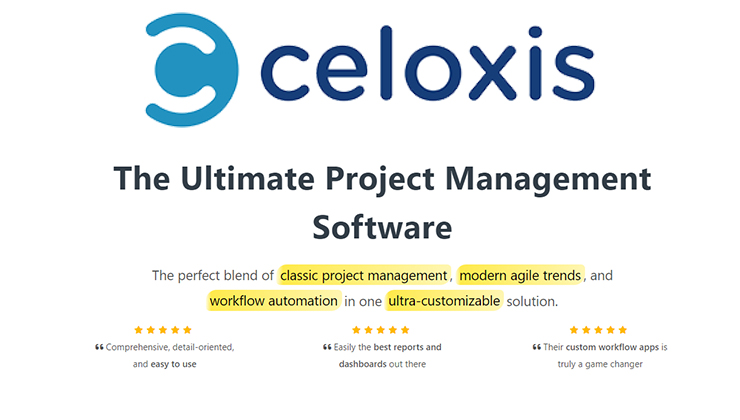 Celoxis is one of the most powerful and successful project management software offered today. It is practically one of the most largely used PM software in the world.
Companies like HBO, LG and Rolex work with this project management tool to streamline and manage their workflow for maximum productivity. It offers simplified and interactive Gantt charts for easy understanding.
One of the advantages of using Celoxis is that your team doesn't have to use other software to manage the tasks which are covered by it.
The user interface is interactive and offers great control to all team members so that they can regularly receive notifications and respond to them without having to log in.
You get the benefit of sharing files, commenting and mentioning users. The dashboard is simple yet fully loaded with almost all controls just a single click away.
Using this powerful tool can be the revolution that you have been waiting for. You get real time insights which allow you to track estimated and actual progress.
Why Choose This?
This potent and comprehensive offering gives you everything that you might hope to find in your ideal project management software.
It is highly flexible and can be personalized according to different industries, types of teams and roles. You also get an in-built timer to track the tasks more effectively.
It even helps you forecast revenue. Everything is neatly packed into a single interface without being overwhelming for team members.
Zoho Projects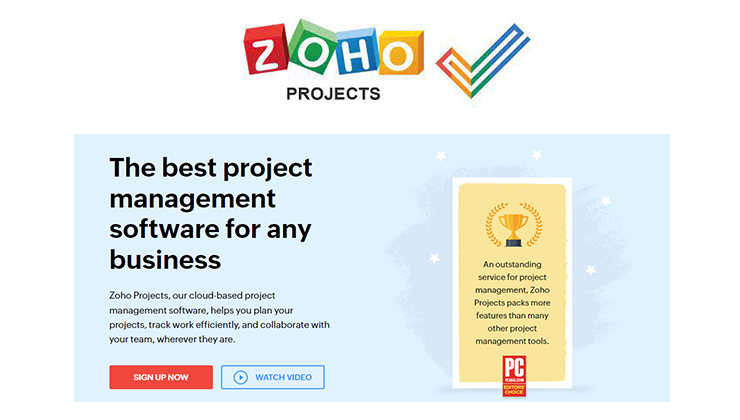 Zoho projects is the most affordable project management solution which is used by a large number of teams across the world.
Considering its low price, it offers prolific features which provide solid functionality for project management and work streamlining.
If you are a small or a growing organization with a low budget, this will probably be the best choice for you. However, it lacks the amount of modification and personalization which is offered by top tier project management software.
You can track all tasks, issues and project related details which are necessary for effective project management.
Why Choose This?
This is a value for money offering which could be more useful for a majority of users. Great for small teams with less load of work, this tool is worth every penny. This is the most suitable PM app for small businesses and people who love simplicity.
Additionally, you can create your own templates with this tool which is great for customization (the tool does not offer default set of templates).
It is simple to work with even if you are a beginner. You don't get advanced features like other high-priced tools but you get enough to properly manage your projects.
These were the top ten project management software which are available for you. Some of these PM services like Zoho Projects, Teamwork, Wrike, Team Gantt and ProofHub offer a free account too.